Words have always been a safe space. Knowing this, a few of my friends and I decided to continue the school's tradition of an annual open mic event and henceforth organized the season 3 of Monsoon Musings, as a part of our CAS experience under the category of activity.. "Alfaaz" was held on September 17, 2020 on an online platform keeping into consideration the COVID-19 pandemic. Alfaaz was indeed a breath-taking event, specially organised for students, teachers and parents to connect and relish the quiddity of literature, right from the comfort of their homes. Understanding that emotions don't necessarily come into languages, this was a multilingual event where participants were free to voice out their emotions in any form and language. The event was jam-packed with words, cheer and sorrow woven into poetry, terribly tiny tales and beautifully crafted musings.
Being the event manager and coordinator, it was my responsibility to ensure that the event was thoroughly marketed in order to get maximum audience and participation and to make sure that the happenings were well-organised with minimal disruptions and were engaging and entertaining. With an eye to this, firstly the members of the board lended me a hand in creating captivating graphics and designs that we presented on various social media platforms to reach a larger demographic. Along with this we created blurbs on project details and forwarded it using our email broadcast list. Eventually after getting maximum participants we edited the works that ought to be presented so as to guarantee that it wasn't offending in any shape or form. Soon after that we created the flow of the event and added an element of fun by adding interesting teasers and games. Since it was an online event and was live streamed, to avoid any disturbance I also had a word with the technical management team to ensure everything was double checked and ready to go on the day of the event. All in all the event was a huge success.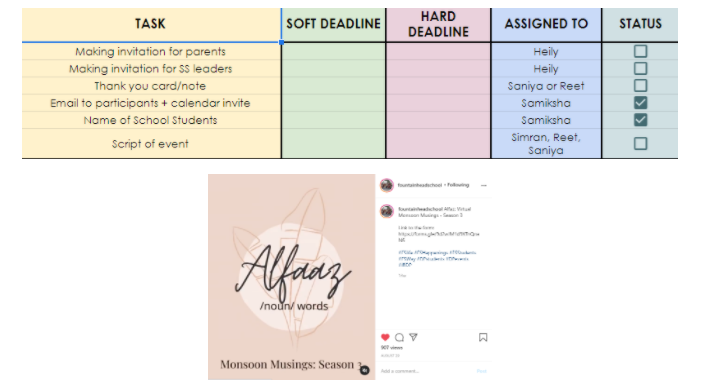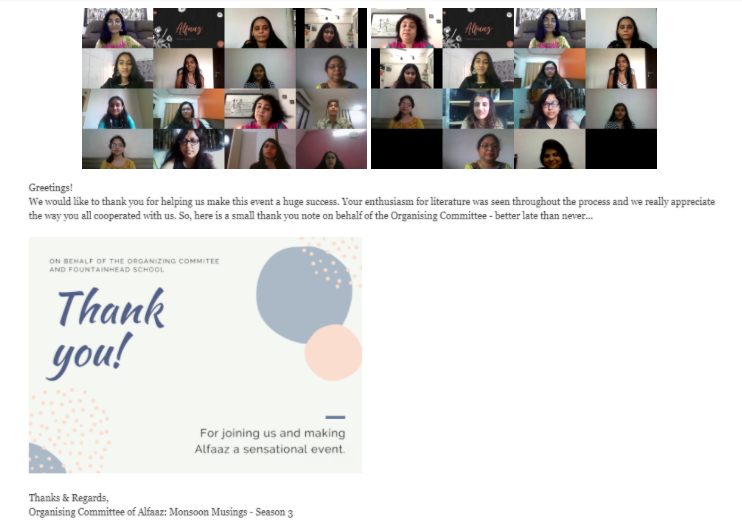 Alfaaz: Monsoon Musings – Season 3
LO 1: Identify their own strengths and develop areas for personal growth.
As I started on this journey I came in terms with my strengths and weaknesses in terms of organization of the event. As for my strengths I believe I have a good command over language and a flair of artistic abilities that assisted me to create attractive graphics to bring the event into the spotlight and market the event well. Additionally having a good deal of eloquence I was able to create messages that we forwarded to our broadcast email list as a marketing tool. Although on the flip side, being a procrastinator I found it rather challenging to manage time and complete self-made goals and deadlines on time. After understanding my weakness I started using google calendar and started planning ahead of time so as to avoid any disruptions. Analysing my weakness and working on it helped me shape myself into a better version of myself and develop one of the most essential skills; time management which will definitely be of a great help to me in the future.
LO 2: Demonstrate that challenges have been undertaken, developing new skills in the process
Firstly, to begin with organizing such a huge event was a first for me and that too with the added compliance of it being online was one of the biggest challenges I faced in this entire process. With minimal face to face interaction with the other organizers and our supervisor it was rather difficult to complete things on time. Even when google hangouts and google meets were a great rescue, it was quite difficult to find a time that suited most of us and arrange meetings where we could mull over our next steps. However, we tried to fit 15 mins meetings every week just to track our progress and ensure that we were at par with the original timeline we had created.
Apart from this, another hurdle I faced was dealing with participants. Being the event coordinator it was one of my duties to edit the works that were about to be present, however late submissions from them really made it difficult to further move on with planning the flow of the event and in turn delayed all the other progresses we were supposed to make a team. Yet, we were able to overcome this by personally mailing each participant and setting a final deadline that worked best for both them and us. This definitely helped me develop patience.
Last but not least this event really assisted me to develop my work ethic, marketing skills, communication with peers and participants and most importantly social skills.
LO 3: Demonstrate how to initiate and plan a CAS experience
Well, amongst all the other learning objectives, from the beginning steps of coming up with names for the events till the end, gratifying the participants I demonstrated how to initiate a CAS experience. We started off by discussion various strategies to publicize the event and soon started making up forms for the potential participants to fill in and then editing their work, talking to the media team in regards to the technicalities of the online event, to creating a flow of the event, writing a script for the hosts, planning fillers and entertainment gaps and finally closing it off with gratitude emails and cards to everyone that made it to the event and made it immensely memorable, I portrayed various acts of being social, communicate with everyone and successfully plan this event. Although I may not be the most organized person, with a little help from my partners and constant planning and scheduling I think I did a good job at coordinating and planning Alfaaz. Honestly speaking, most of what I learnt from this event like marketing skills, patience, communicating skills, being socially friendly and finding solutions to whatever challenge came our way, is something I will always remember in the future and was actually a foundation for the different events I plan to lay out in the future.
LO 4: Show commitment to and perseverance in CAS experiences
Even when at times it seemed like the event will have to be abandoned because of the slow response from participants, or lack of planning and a time crunch, I believe that I showed commitment and perseverance to make it one of the best open mics one could have organized keeping in mind the current circumstances of the pandemic. As a team, all of us made sure to motivate each other and keep the spirits high, being persistent, dedicating a lot of time and effort for this project and working as hard as we could to make this happen.We tried different approaches to reach our final goal but in the end, perseverance towards making this virtual event a success was what made it so memorable.
LO 5: Demonstrate the skills and recognize the benefits of working collaboratively.
To be completely honest here, this event couldn't have been a success without the constant help of the others working collaboratively. Being a team also gave us a sense of accountability which motivated me to work better and more efficiently, and looking at the work ethic of my partners also made me respect their work altogether more. Although all of us were assigned different roles we used our personal skill and ability to the maximum and help each other. Like one of my fellow organizers was very organized and planned, she helped us plan and schedule so as to reach the ultimate goal within the time frame, while the other brought on the table their expertise in social media marketing and helped create posters and videos to spread the word about the event. Similarly one of them was an avid reader and good with words and she helped us frame formal mails that we addressed to our participants. Together we uplifted each other, worked together, communicated and this not only made tasks easier, and an opportunity to showcase one's abilities it also made this a very successful event.
LO 7: Recognize and consider the ethics of choices and actions
Being an event with a huge number of people, there ought to be ethical dilemmas. One of them being disqualifying participants that plagiarized work or not. Or what consequences to give when there are numerous delays in the submission of the work. Even with such ethical choices, we ensured that everyone was given a fair second chance and if the behaviour wasn't still improvised, disqualification was considered.
To conclude, I believe that from the start of planning this event to the final execution I learnt several new skills, demonstrated plenty I already had and polished a few. It also gave me a hand held opportunity to display a few of my abilities like my flair in artistic abilities and my great command over language. In addition to this I exhibited various learner profiles, like being a thinker and thinking critically, by solving problems that were thrown at me. Apart from that I also portrayed being a risk taker and took a leap of faith and organized such a warm, lovely and enjoyable event for one and all who attended it. I also proved to be a communicator by having conversations with supervisors, team members, participants, audience and the media team, who all together contributed in making the third season of monsoon musing – alfaaz a cherishable one. I also found myself showing attributes of being principled and treating everyone fairly and respecting everyone throughout the course of the event. All in all, I believe this experience most definitely lended me a backbone for all my further endeavours and brought to me the highest sense of joy and accomplishment.