Cardiac Arrest is when your heart stops pumping blood around your body which is commonly caused by electrical signals in your heart. because your heart stops pumping blood your brain is starved of oxygen so this causes you to fall unconscious and stop breathing.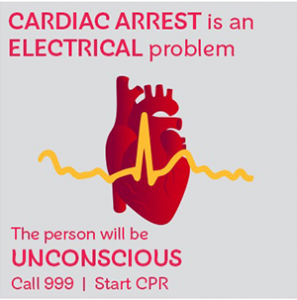 As there are no signs before the sudden Cardiac Arrest but there are some symptoms that might occur before Sudden Cardiac Arrest.
SYMPTOMS before Sudden CARDIAC ARREST
Fatigue or weakness
shortness of Breath
Dizziness or lightheadedness
Heart Palpitation(Beating too fast)
Chest Pain
TREATMENTS OF CARDIAC ARREST
CPR – By maintaining a flow of oxygen-rich blood to the body's vital organs, CPR can provide a vital link until more-advanced emergency care is available.
DEFIBRILLATION- A type of arrhythmia that can cause sudden cardiac arrest, generally includes of an electrical shock through the chest wall to the heart.
Treating arrhythmia (irregular heartbeats), for example, is very important because they can cause sudden cardiac arrest in people who have heart failure. As a result, many transplant centers will place implantable cardioverter defibrillators (ICDs) in patients before surgery. An ICD is a small device that's placed in the chest or abdomen to help control life-threatening arrhythmia's.